Originally published in Wax Poetics Issue 55, Summer 2013.
As teenagers, New York natives Kelvin Mercer, Vincent Mason, and Dave Jolicoeur would take the subway train to Thirty-Fourth Street, get off at Penn Station, and walk to Calliope Studios to work on their first studio album. They were unaware at the time that what they were about to create would make a monumental impact on hip-hop's evolution. At the same time, however, it would slap them with a "hippie" label the trio would spend years trying to shed. 
Collectively known as De La Soul, the group's ascent to hip-hop glory began once they met as high school kids in Long Island in the early '80s. Along with producer Paul Huston, better known as Prince Paul, the four like-minded individuals would bring their strong personalities to the table, which subsequently would lead to an eclectic body of work. 
While Mercer (aka Plug One,  Posdnuos, Pos, Plug Wonder Why, Mercenary) was born in the Bronx, his family eventually settled in Long Island. Jolicoeur (aka Plug Two, Trugoy the Dove, Dave) and Mason (aka Maseo, Mase, Plug Three) both hailed from Brooklyn but also ended up in Long Island where Prince Paul had already been living. New York City in the '80s was, of course, the epicenter for the "golden age of hip-hop," which the foursome was fortunate enough to witness. 
"I would hear my brother talking about a cassette they had with someone rhyming on it," Posdnuos recalls. "I didn't know at the time that it was Cold Crush Brothers or Fantastic Romantic 5. That was my initial understanding of hip-hop. My older brothers would be talking to my cousin about it. I was young, but even then we had a strong connection to the Bronx because of a lot of our family was still living there. For me, that was the first thing I remember. I always wanted to be around my father listening to his Motown too. When Sugarhill Gang came into play, I was already aware of Grandmaster Flash and Furious Five because of my brothers." 
Maseo's background is a little different. He moved to Long Island in 1984, but the fourteen years he spent in Brooklyn made a lasting impression. Once he moved to Long Island, he wasn't quite prepared for the more suburban type of lifestyle. He was used to hanging out in the streets of Brooklyn, and as the oldest son of a single mother, he often felt he had the weight of the world on his shoulders. Hip-hop gave him the ability to transcend his personal problems. 
"Hip-hop was a major part of what I went through growing up. I grew up around the block parties. I grew up seeing a significant part of DJ and MC culture. It became a bit more dynamic when I moved out to Long Island when I became a part of suburban culture," Maseo explains. "Long Island was a bit more multicultural. Black, White, and Hispanics lived amongst each other as opposed to across town. In Long Island, there was a mix of everything as one community. They had grass, trees, houses, NBC, ABC, WBLS radio, and then we eventually picked up KISS FM." 
Once the three met, they lived and breathed hip-hop culture. Prince Paul was already doing shows as DJ Paul, and he was the first person in their neighborhood to actually make an album with his group Stetsasonic. The trio's demo, "Plug Tunin'," caught Paul's attention, and soon they were all working in the studio together. 
"You know how people say, 'Like-souls find each other and gravitate towards each other?' That's how it was with us," Prince Paul says. "As cool as the world may see them, initially they were just some nerdy kids. [laughs] Maybe Mase wasn't as nerdy; he was a little more street than they were, but when it came to Pos and Dave, they seemed like little nerdy kids. But it's not like I'm the coolest person either, but I was the first kid that had released something commercially. It played on the radio and stuff. To the kids in my neighborhood, they were like, 'Wow, he made it,' " he remembers, laughing.
"In high school, music was one aspect of it, but we were all definitely about sneakers and what was the hottest new jacket or what have you," Dave admits. "I think fashion even came before music. We were dancing before we were writing, as well. Parties, clubs, stuff like that came first. We were just the average high schoolers clowning around and being goofballs and trying to be part of the 'in-crowd.' Seeing Paul made us think making music was possible."
That's what drew Posdnuos, Dave, and Maseo to Paul in the first place. 
"He was actually a recording artist. He had a record on the radio," Dave adds. "Prior to Paul actually having a record, he was a popular DJ in the neighborhood. At the time, there were so many other Pauls, which is why he changed it to Prince Paul. He was our in."
Hearing hip-hop on the radio was a huge deal back then. It was the goal of many young artists to have DJ Red Alert playing their music on daytime radio.
"When Red Alert played my record," Maseo remembers, "I felt like I really made it among a hip-hop community I grew up respecting. I was alive in their eyes now. They realized how significant we could be to the culture. Having an opportunity to spend so much time at Red Alert's house and play records, stuff like that was amazing. We were all content with 'Plug Tunin',' but we never thought we'd even make a whole album. Getting the local love felt great."
"Hip-hop was so limited then," Prince Paul says. "You had the rap shows, which were done by DJs like Red Alert and Mr. Magic, but then if you made it on daytime, which we as De La Soul needed, then it was a really big deal, because there weren't many hip-hop spots aside from maybe Run-DMC, Slick Rick, and Doug E. Fresh that would get daytime. To get played in daytime, it was like the world heard you. It wasn't like a rap fanatic listened to hip-hop in their basement at ten at night. To us, it's the world. All of New York State got to hear you."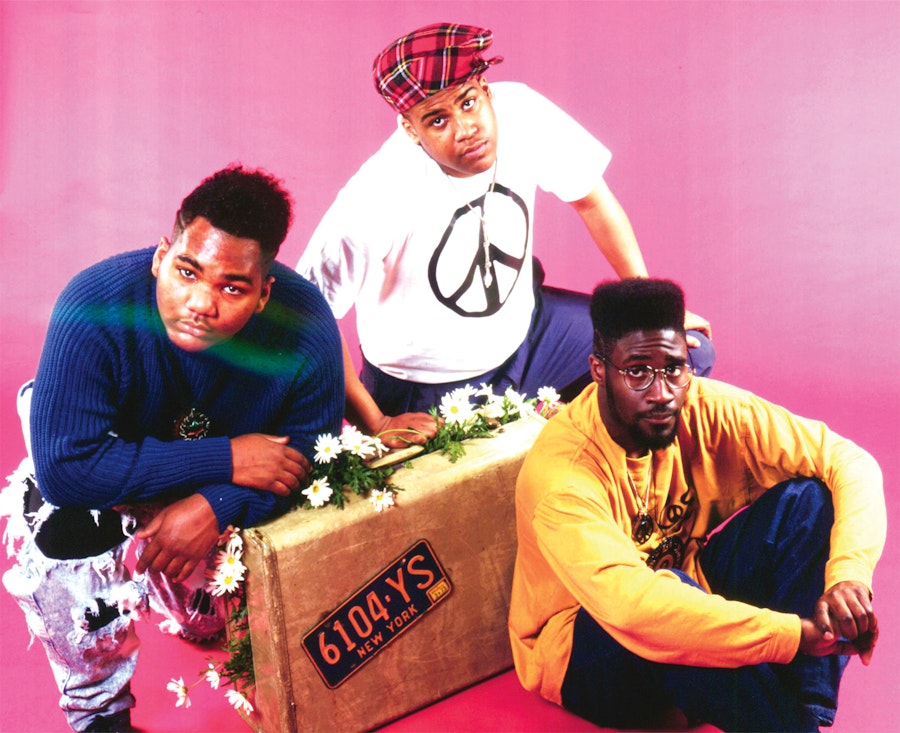 In 1988, De La Soul stepped into the studio to start recording their debut album, 3 Feet High and Rising. As eighteen-, nineteen-, and twenty-year-old kids, they felt playful, eager, and ambitious. Not really having a clue what they were doing in a professional setting, they felt comfortable under Prince Paul's wing. There wasn't any pressure to perform a certain way, not even from Tommy Boy, their label. 
"The mood was magical, because it was the first time we were in a professional studio," Posdnuos says. "We were finally living out our dream. This is what we wanted to do. It just kind of made it official. Here we were recording for this iconic label, Tommy Boy. Along with Prince Paul, we were just focused on what we needed to do. We had a to-do list, but a lot of the fun and quirkiness came into play as well. It was just an amazing time. The studio itself, Calliope, it just had this dope feel to it. It didn't even feel like an actual studio. So our first introduction to a studio felt like we were just in a loft. We felt really at home. It didn't feel intimidating at all. The view was amazing. You could see the Empire State Building. It was just a really, really amazing studio to work in, as opposed to coming in and there's all these intimidating, gigantic machines and knobs. It just felt like an incredibly relaxed atmosphere."
"We weren't even thinking of making the best record," Dave continues. "We were just thinking, 'Wow, we're going to have something on the radio!' At that point, we were just using our Burger King money for time at the studio. [laughs] It really felt like we were really doing something. We didn't think we would have a contract or anything like that. We weren't used to going to the studio. Paul was a legitimate artist and led us through the doors he had already been through. That helped a lot."
What made 3 Feet High and Rising so unique were not only the personalities of De La Soul but also its use of samples. The numerous samples on the album were culturally and historically significant to the time period. The diverse nature and sheer amount of them were unheard of at the time. From Johnny Cash and Hall and Oates to the Beastie Boys and Michael Jackson, there was a little bit of everything. 
"There really wasn't another album that did that outside of the Beastie Boys' Paul's Boutique," Posdnuos says. "Funny enough, when we were working on 3 Feet High and Rising, it came to us light years later, that that's where they were trying to go with Paul's Boutique, but we had done it first with 3 Feet High and Rising. We really included a smorgasbord of genres of music; from hip-hop icons like Run-DMC to a Sly and the Family Stone loop to Eddie Murphy saying something from one of his comedy routines. Plus, we were all fans of Hall and Oates. It was one my dreams to work with one of their records. I really wanted to use 'I Can't Go for That.' I always had that in my mind. I didn't know if it could be done because the part of the music that didn't have any singing on it was being played in a different key. I wanted to rhyme over the lower register of the key once Hall would start singing. I found the [Eventide] Harmonizer in the studio and it could make the pitch higher or lower. That's how I could do it. It opened up my mind about how I could put music together. Amazing times. I learned so much."
"We were the first to really use that many samples," Dave adds. "Eric B., Rakim, KRS, and Big Daddy Kane was sampling, but when 3 Feet High and Rising came out, we had eighteen songs on there, so there were even more samples. I think a part of its success was because we were all sampling from music that most seventeen- or eighteen-year-olds wouldn't ever listen to. We weren't always accustomed to all the music we were sampling. We were digging at yard sales, the library, our neighbors, wherever, and that helped as well. We were working at McDonald's and Burger King to get our studio money. We were kids; so young, foolish, and innocent. We went in there with courage and just did our thing. We weren't worried about who was going to judge us."
Considering the lackadaisical approach to making the record, there was no way to predict 3 Feet High and Rising would explode with popularity like it did. More often than not, Prince Paul and the rest of the crew were just joking around, playing pranks on each other, and goofing off as if they were still stuck in their high school study hall. Consequently, when 3 Feet High and Rising became a monumental success, it caught them all off-guard. As a matter of fact, Maseo was planning on going into the military after high school, Posdnuos was already in college, and Dave was studying to be an architect. The possibility of making music for a living was extremely far-fetched to them. Even Prince Paul, who already had his foot in the door, was astonished by the album's reception.
"I was definitely surprised," Prince Paul recalls. "In a way, as a producer, and me being super young back then, I didn't really know the level of where the record would go, because my success before that wasn't on a major scale. Let me put it like this, when I was with Stet, I went to college, had a part-time job, and I did Stetasonic. That shows what a big success I was," Paul jokes, laughing. "I was able to do all of that at the same time. It was kind of like a hobby. So for the first album we did to get as big as it did, it was like, 'Wow. Whoa, this is a record we purely made for fun.' It wasn't like we sat down and said, 'Okay, these are the kind of records that can get played on daytime radio on heavy rotation.' There was no formula. We went anti almost everything that was popular, which gave us even less of a chance to even make it to any type of mainstream or popularity. That was even more baffling to everybody, even to the record label. They were like, 'That's why we didn't clear a lot of the samples.' They didn't think the record was going to hit. They thought maybe a few heads would like it. Then when it came out, it blew up. They were happy, but in no way were they prepared for the impact of it."
Posdnuos, Dave, and Maseo had similar feelings of shock. Once again, they measured their success by the fact their music was hitting the airwaves.
"It was incredible," Posdnuos says. "It just happened so fast. It didn't even have time to really sink in. Mission accomplished for us was just hearing the famous disc jockeys in our own community play our music—Red Alert, Marley Marl—that for us was mission accomplished. Then it just snowballed. It was a pleasure. There was so much on there for everybody, and it was an album that was so different at the time—it invited a lot of people in to fall in love with it and appreciate it."
"The first time I heard us on the radio," Dave recalls, "I was in a college dorm. Letting your family listen to you on the radio was a huge accomplishment. Everyone was proud and happy. When they were like, 'You have to do a show in Texas,' I was like, 'What? Texas? Are you serious? We're actually outside of New York?' Then they were like, 'You have to promote this record.' Then I realized it was becoming a job. This is work. I wouldn't trade it for the world. It's a learning process. You have to take the good with the bad. You get to travel and see the world, but there's a whole bunch you have to look out for. It has its amazing points, but as a kid, you need guidance. It wasn't there all the time. Your family wasn't there to guide you. Fortunately, we were in circles that saw we were kids and really helped us with our career."
After a lengthy tour to promote 3 Feet High and Rising, De La Soul was met with its first test. Due to Dave's penchant for wearing African medallions and dreadlocks, combined with the group's overall positive messages, they were smacked with the "hip-hop hippie" label, a phrase that made their skin crawl. This is where the mother of reinvention stepped in. Continuing on with Prince Paul as producer, the group's sophomore effort, De La Soul Is Dead, was released in 1991. The album was intentionally darker, both lyrically and production-wise. The album cover featured a pot of dead flowers that had been tipped over. Essentially, they killed themselves off to give way to a rebirth. 
"The hippie label was kind of disrespectful, but we realized later how it worked. At the end of the day, I have to chalk it up and say that's what it reminded people of when we were sampling Steely Dan, the Turtles, and Hall and Oates," Mason says. "The blessing in disguise was all the negative stuff we were going through was inspiration for the next album. We killed off the hippie idea before anybody else could."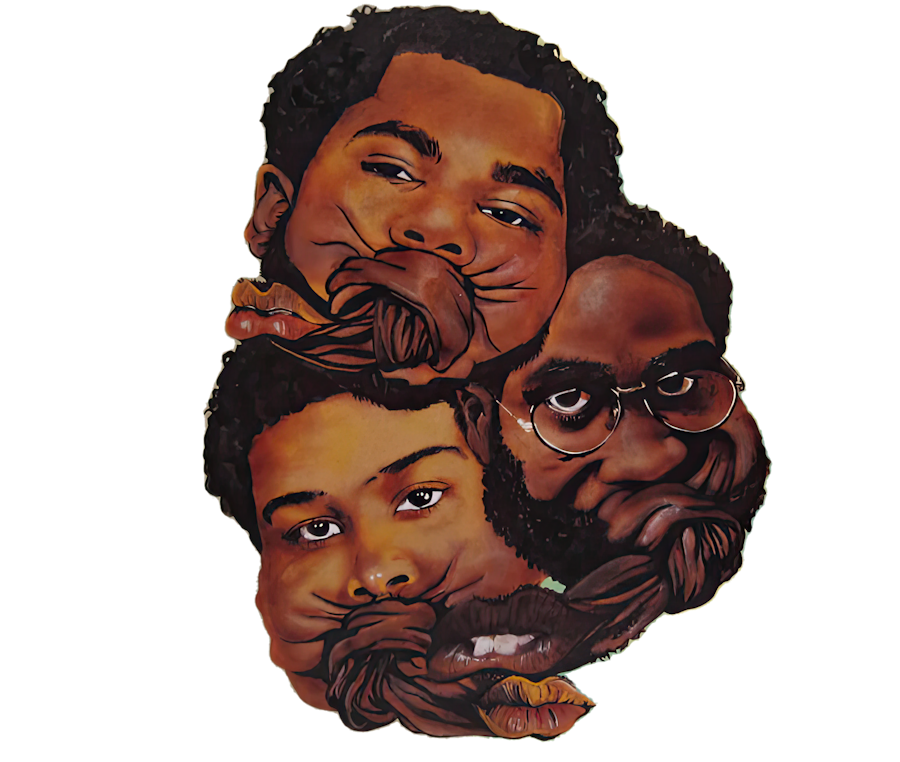 Buhloone Mindstate from 1993 was another evolutionary statement. The album contained the singles "Ego Trippin' (Part Two)" and "Breakadawn," which hit number thirty on the R&B charts. The album marked the end of Prince Paul's contributions to the De La Soul catalog.
"We never set out with the plan to reinvent ourselves," Posdnuos says. "Early on, when we realized we were going to call the group De La Soul, we always focused on the inner soul. Everything we learned and what we took on in terms of religion, what have you, that would reflect in our music. Whatever change was in us, that's what we were going to talk about. If one minute, Dave is studying Islam or whatever, that's what you heard on Buhloone Mindstate. We didn't set out to try to be like, 'This album is this. Let's make sure this album is this.' It was just wherever we were at the time. By the time we finished Buhloone Mindstate, we had kids and we were just trying to say, 'Yo, this world is kind of crazy, and it's hard to bring up kids in this world.' We weren't sure where De La Soul stood, and the stakes was really high for us."
Stakes Is High, released in 1996, was met with poor sales, but ultimately it was still a concrete statement that De La Soul was going to keep being De La Soul, even if it meant compromising its popularity. And its dark Dilla-produced title track, with its biting social commentary, has withstood the test of time as a hip-hop classic.
"For 2000's Art Official Intelligence, we wanted to put all this music out," Posdnuos continues, "so we were like, 'Let's do a triple album.' Killing off the 'D.A.I.S.Y. Age' on the second album, it wasn't hard to do. That was just our lives when we were seventeen or eighteen years old. Once we jumped from the LL Cool J tour to the Fine Young Cannibals tour, we were seeing the world and seeing negative things about our label. Our friends were changing, and so we wrote about it on De La Soul Is Dead. For us saying that, we were just trying to say what we were learning about; death was like moving on to the next plane. So what you think De La is, which is these hippie-lovin' kids, were now moving on to being young men."
In 2001, De La Soul released the second album in the trilogy, AOI: Bionix. However, the third album in the AOI series never came to fruition. The Grind Date followed in 2004, and 2012 saw the release of First Serve. Between those two albums, De La Soul was featured on the Gorillaz track "Feel Good Inc." in 2005, which ironically would earn the group its first Grammy Award for Best Pop Collaboration with Vocals. Again, this was further evidence of De La Soul's seemingly limitless versatility, which is part of what makes De La Soul a permanent and extremely relevant part of hip-hop culture. 
"In my opinion, I truly attribute the longevity to our commitment as friends—regardless of the disagreements at times—as well as our common goal to be a group in the tradition of hip-hop based on what we've learned from the beginning when we were just fans of the culture," Maseo concludes. "The reinvention of each album became a purpose due to the fact that we've learned how a label can taint the image of your music and message for sales. So, the reinventing became a significant part of the longevity, along with being induced by the natural current events going on in our lives throughout the recording process of each album."